Calcification / Sediment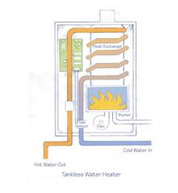 Clogging of the tankless by sediment is not an issue because the tankless has a fine mesh filter on the input which prevents anything from ever entering the machine. We have hundreds of these installed, and we do not get any calls from people asking how to clean the filter (it's an easy process) even on the many houses with galvanized plumbing. Calcification is the precipitation of minerals dissolved in water which settle on waterway surfaces.
CALCIFICATION IS GENERALLY NOT A PROBLEM IN TANKLESS WATER HEATERS IN SOFT WATER AREAS WITH TOTAL DISSOVED SOLIDS OF 20-50 PPM.
Marin, the East Bay and the Peninsula have soft water. In hard water areas (i.e. areas with well water, Fairfield or San Jose) we recommend either a whole house water softener, a dedicated small softener just for the tankless called a ScaleSchielf(tm) or the installation of a flush kit so the tankless can be easily flushed every few years.
Maintenance
Tanklesses, need very little maintenance. In harder water areas, flushing with vinegar is necessary. Tanklesses have sophisticated controllers which detect improper operation. An error code is displayed if there is a problem. The error code generally points to the exact problem which is easily fixed by a serviceman. However, we find this is very rare. Modern, quality-brand tanklesses are extremely reliable.